Festive Tips To Maintain a Spotless Kitchen Over Christmas
Everyone would love a spotless kitchen, but keeping it like that, especially over Christmas, is easier said than done! When there's Christmas dinners being served up, seasonal baking taking place and festive treats everywhere, it's inevitable that there will be mess left behind. That's why finding a quick solution to clear it up will make a world of difference to your life
Best ways of cleaning the mess left behind over the Christmas period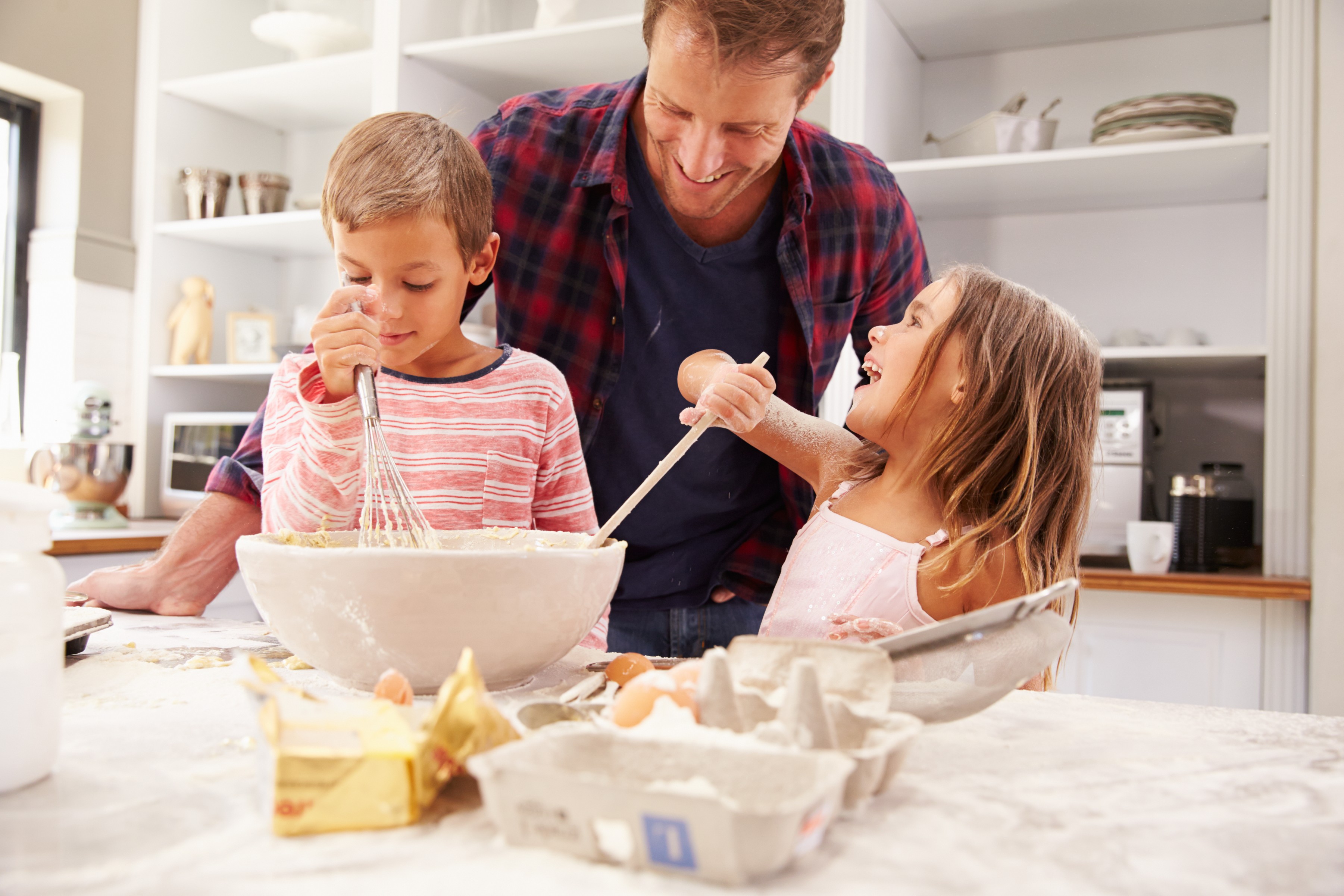 Whether you're cooking for yourself, your partner or the whole family this Christmas, here's how to clean your kitchen using ENJO. Because having your ENJO products on hand is just as important as your other traditions (so you can clean up after them!).

ENJO products may be quick at cleaning, but they won't need replacing in a hurry. Produced in Austria, our handmade kitchen fibres are made from quality raw materials, and last for at least 3 years.

If you have a need for speed when it comes to the kitchen clean-up, this is how ENJO can help.



The ENJO Kitchen Bundle cleans quicker because...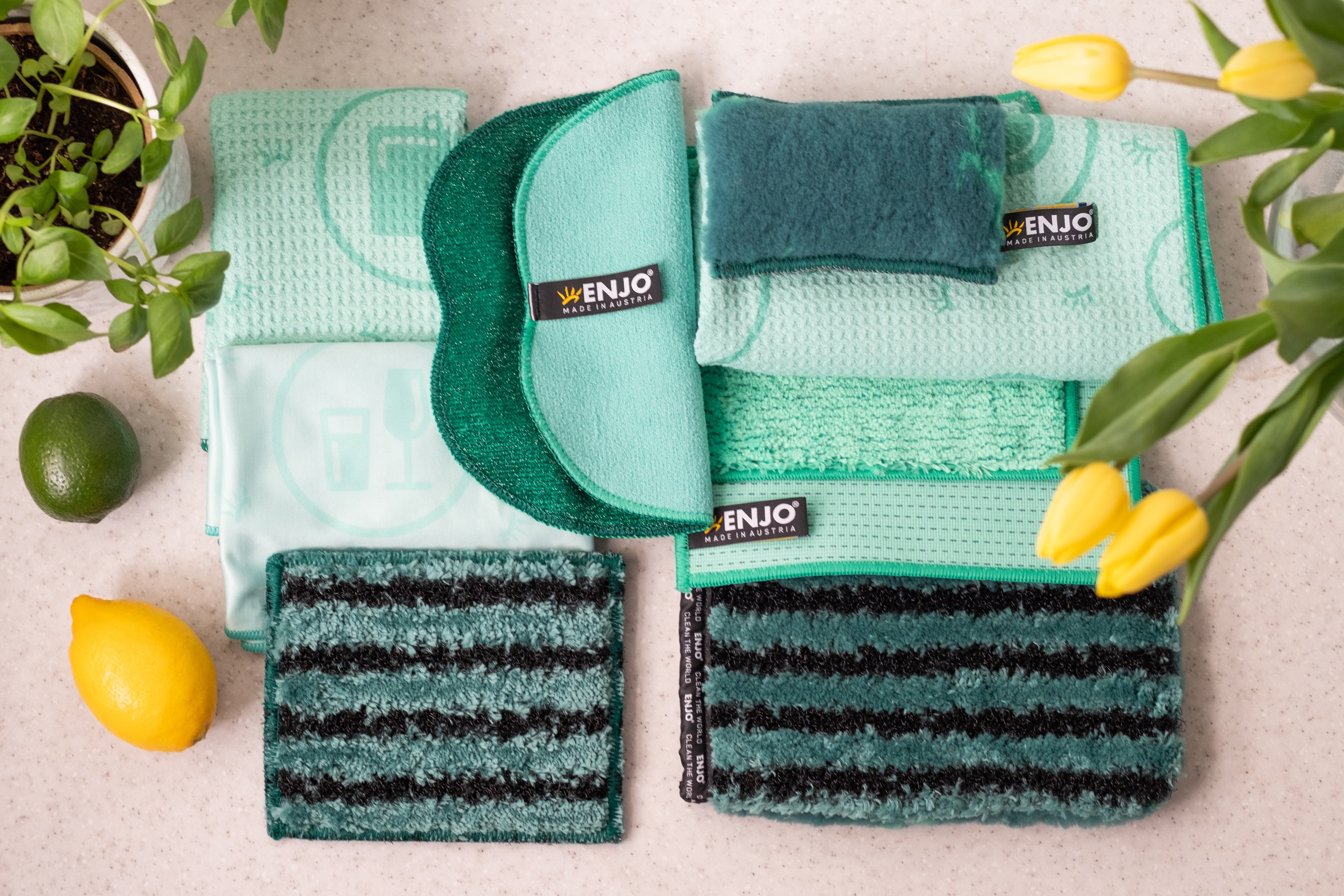 Firstly, there are no chemicals involved. Cleaning with chemicals means removing debris, spraying the surface, wiping the surface, waiting the appropriate time for the chemicals to 'kill 99.9% of bacteria' and then rinsing away the chemical residue before you dry the surface. Instead, the ENJO Kitchen Glove is fast and great for cleaning large surfaces. You simply wet the fibre, wipe the surface and then dry with a Kitchen ENJOfil.

Cleaning with ENJO is about completing a very simple, tried and tested process - wet, wipe and dry. A dry surface is important as it makes that surface hard for bacteria to grow on, which is why the Kitchen ENJOfil is one of your most important kitchen cleaning helpers.

ENJO cleans using fibre technology that not only works, but works more effectively. ENJO Fibres are unique, 100-times finer than a human hair, each fibre is wedge-shaped to help loosen and lift dirt. The weave of the fibres traps the dirt, cleaning your kitchen surfaces far more efficiently.

Depending on the cleaning surface and purpose, our fibres contain a different mix of raw materials and have a different weave. The Kitchen Allpurpose Cloth is a great example of this. Perfect for spot cleaning in the kitchen, the longer fibres are great for picking up particles like a magnet.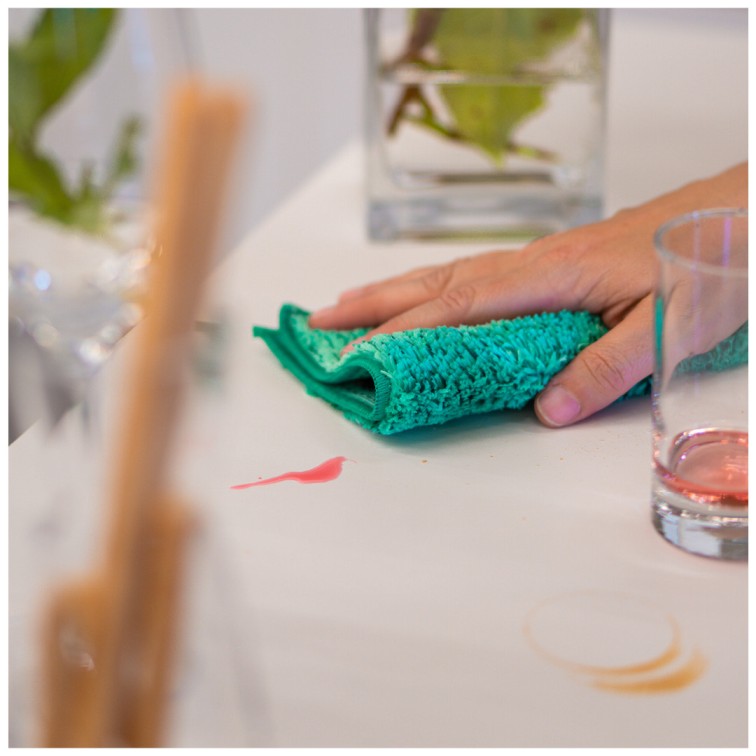 Tip: fold your Kitchen Allpurpose Cloth in half and use the rough (non-fibre) side to swipe crumbs and food off the kitchen bench into your palm for a quicker clean.

Wondering about those tricky spaces? Or how to best clean your microwave? Which gets plenty of use reheating or cooking items throughout the festive season! Tackle the spits and splats with the Kitchen Duocloth.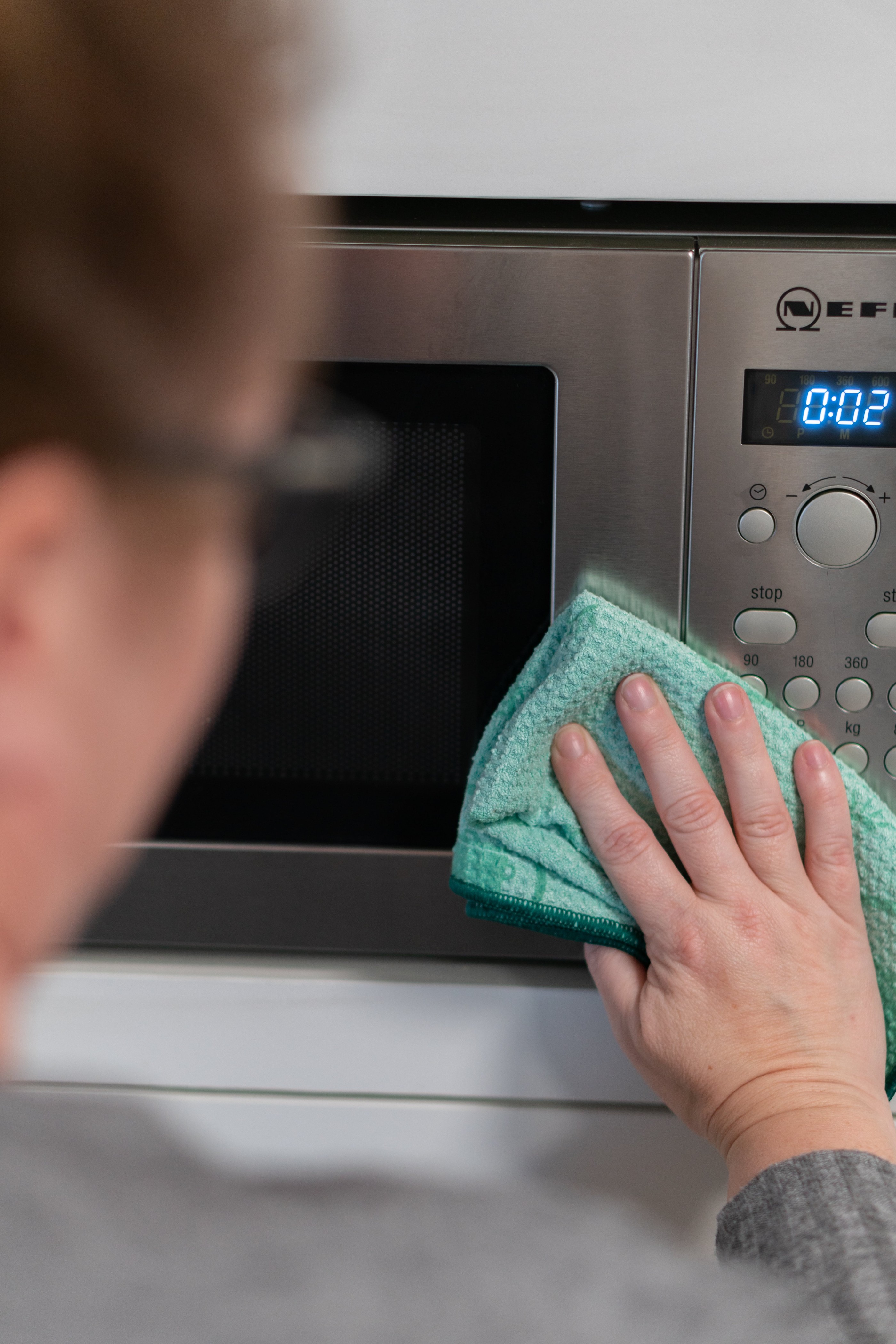 With the same fibre technology as the Kitchen Glove, the Kitchen Duocloth is great to grab for daily cleaning maintenance and for cleaning-up microwaves, the sink, taps, baking trays, pots and pans.

If some of your kitchenware has baked on dirt, the Kitchen Sponge is great at removing food and stubborn dirt that's proving difficult to get off. It's a small but sustainable sponge that's designed to rid your washing up of grease and food residue with ease.

Other benefits of cleaning your kitchen with the ENJO Kitchen Bundle

Less time spent at the supermarket! No more running out of products, no more supermarket cleaning aisle – you have everything you need to clean your kitchen until 2024. Shopping less also means spending less.

How much you spend on cleaning products is probably hard to track when you're topping up here and there, but you might be surprised at how quickly it adds up. Making one purchase for the next 3 years means you can better track your spending and saving. What's more, with our Openpay service, you can get all of the fibres you need and spread the cost into bite-sized manageable monthly costs that are interest-free.

Less waste is another big plus, especially in present times where sustainability and the future of out planet is under such scrutiny. With Christmas being one of the most wasteful times of year, using ENJO means preventing a large amount of kitchen towels, sponges, cleaning cloths and all-purpose sprays ending up in landfill. Imagine the impact if every household in the UK did the same. By changing the way we clean, collectively our impact on the health of the planet is huge. With ENJO, simply pop your products in the wash and they're good to go again for up to 3 years.

Not only are we talking less waste, but we're talking zero waste. ENJO don't want to see a single ENJO cleaning product end up in a landfill, which is why after 3 years when your products are less effective you simply contact ENJO HQ to send your fibres back. Old fibres are then upcycled into home insulation or car seats, making them a truly zero-waste product.

That's why this year you can sit back and enjoy your Christmas feast with the family, knowing you've got the cleaning up under control and you're doing your bit for the planet.