It's Time For A Dustup With...Dust
Dust. Something that is present in all of our homes. It's inevitable, it's unavoidable, and it's a pain! Dusting is a cleaning chore that will always be on our list because dust is everywhere. But there are important things to consider in terms of minimizing it. The tools you choose can make a massive difference to reducing dust-levels in your home.

How to reduce the level of dust in your home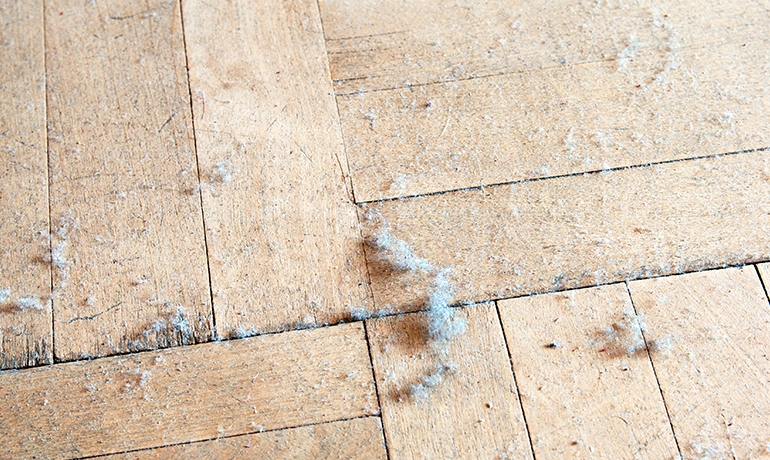 What causes dust?
Did you know - Indoor dust is comprised of things found within your home. Animal hair, pet dander, textile fibres, paper fibres, human skin cells, human hair, food particles and outside dirt are just a few of the components. Studies show that 90% of household dust contains chemicals such as phenols, phthalates, fragrances and flame retardants. Not only that, but one of the main reasons why dust causes us so many problems is the fact that it's forever building up and it affects the air quality inside your home.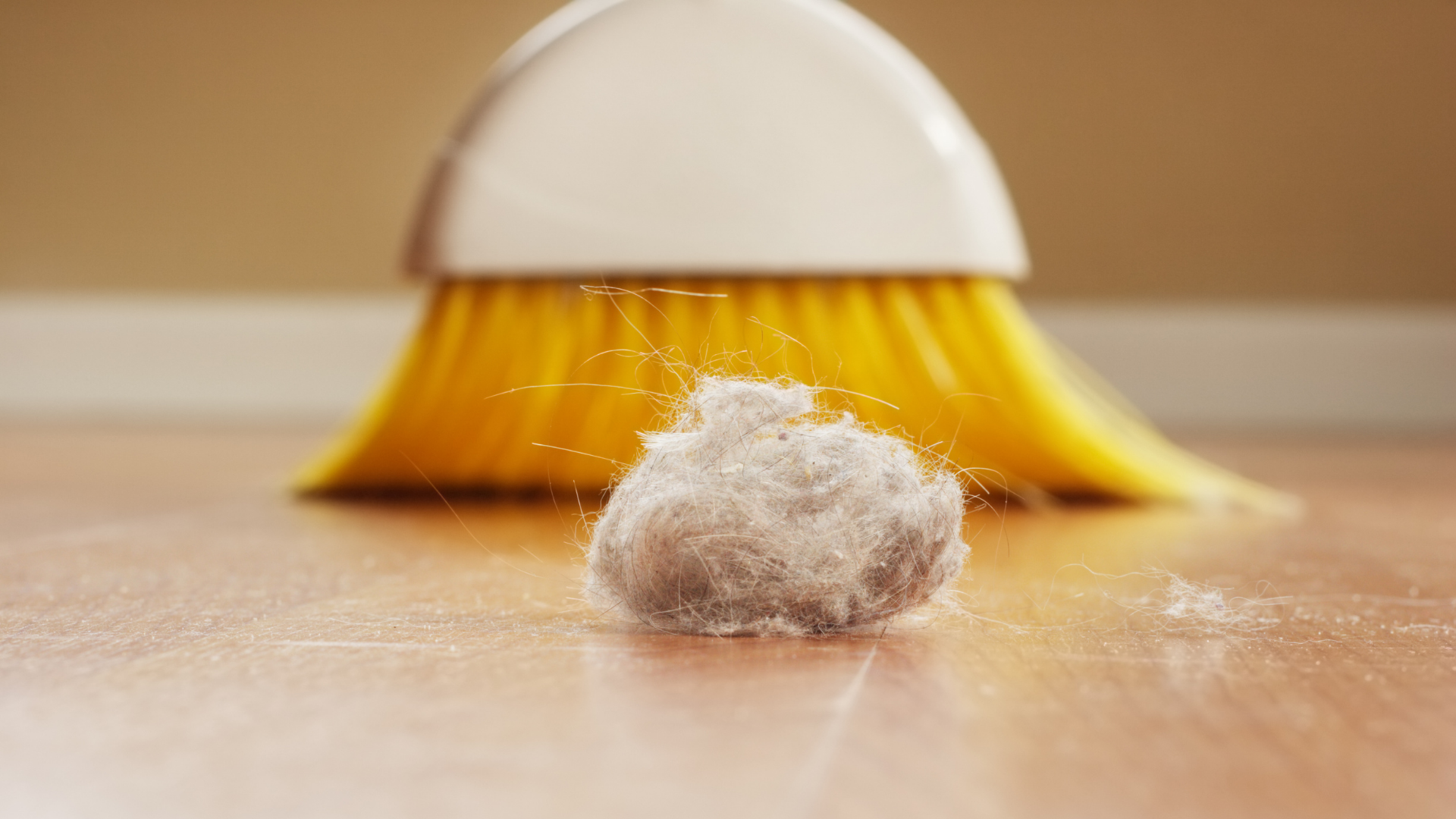 Why does indoor air quality matter?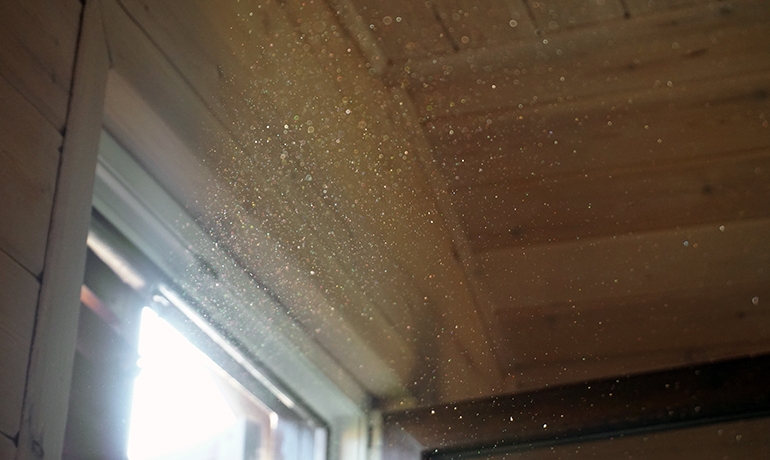 Put simply, indoor air quality is a measure of chemicals and pollutants within a building that's occupied for at least one hour by people.

Studies have actually shown that indoor air is five times more polluted than outdoor air which surprises a lot of people. Poor indoor air quality has also been linked to immediate short-term issues such as irritation to your eyes, nose and throat, with those suffering from asthma and allergies most impacted. If dust was persistently a problem over a longer period of time, then that has been linked to respiratory diseases, heart disease and cancer in some cases.

The most important thing you'll be relieved to hear is that there are a number of steps you can take to help improve the quality of the air in your home. Introducing things like houseplants, keeping rooms well ventilated, preventing condensation and of course, keeping on top of your dusting routine at home are all measures that will positively impact the air quality at home.
What are the challenges with cleaning dust?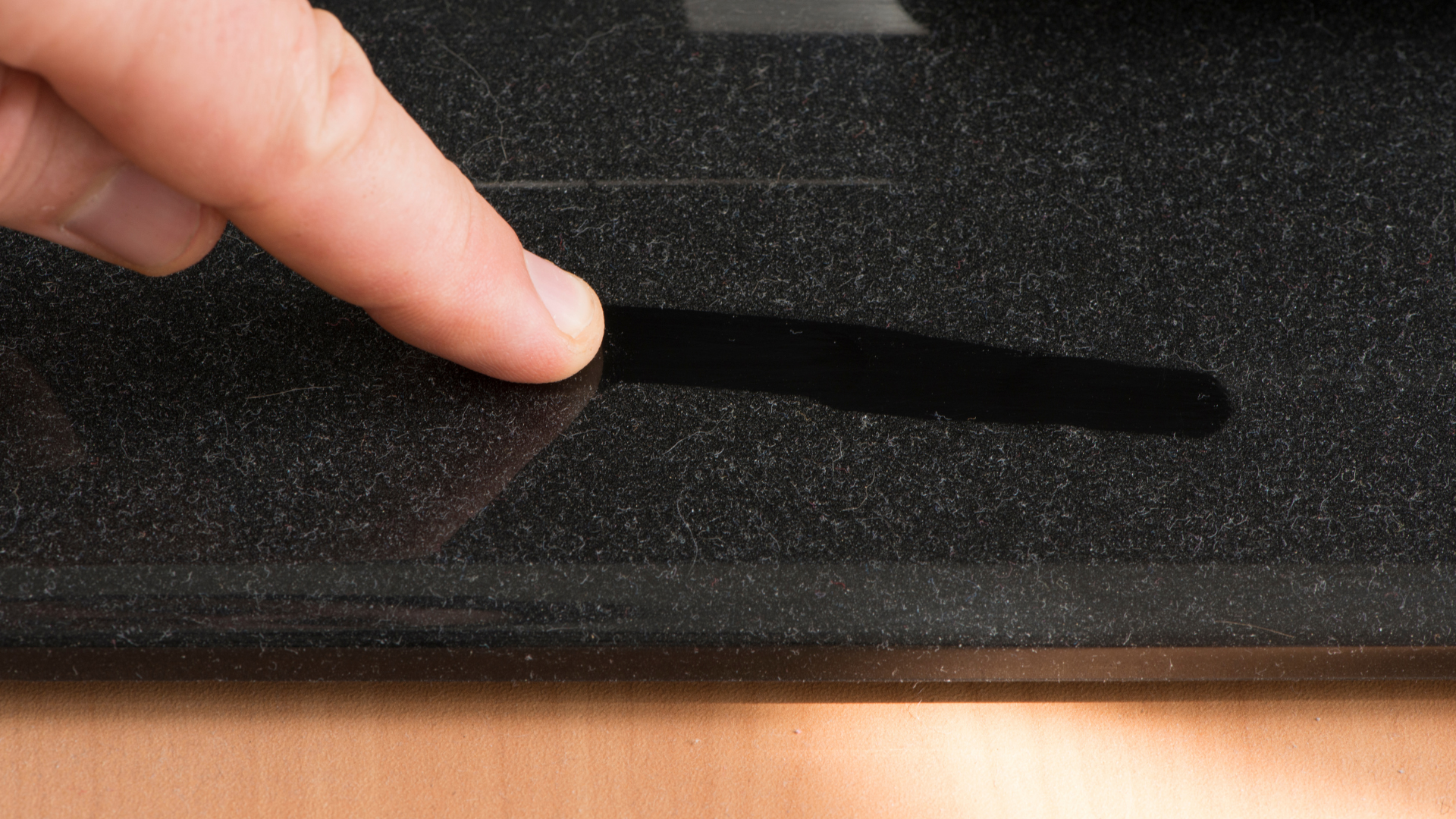 The most common issue that people typically find when it comes to dusting is dust dispersal. During the cleaning process, dust becomes airborne making it impossible to clean. The dust later resettles, so instead of physically removing dust, it tends to get moved around your home from place to place. So unless dust is removed effectively, cleaning with the wrong tools can actually make the situation worse, especially for asthma and allergy sufferers as pollen and allergens become airborne.
What is the most effective way to dust your home?

To make sure your dusting efforts aren't counter productive, we put our Dust Floor Fibre to the test and uncovered the most effective way to keep your home dust-free. ENJO's dust floor cleaning fibre was tested against 3 alternative dust cleaning solutions to see which method removed dust, pollen and allergens from the air most effectively.
What was the outcome of the test?
A study was undertaken to compare 4 different dust-cleaning solutions to see what was most effective. So if your home is a bit of a dust magnet and you suffer from asthma or allergies, read on to see what we discovered..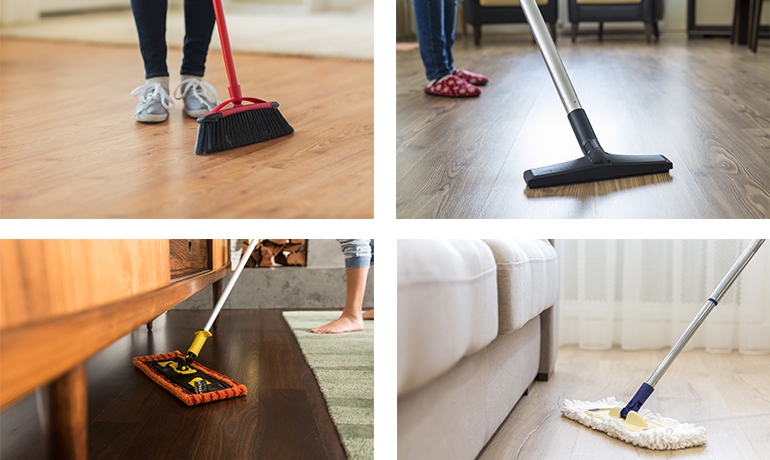 Siegfried Lerchbaumer, an expert on ambient air hygiene, ran a test to measure the level of respirable dust pollution during the dust-cleaning process of four different dust cleaning products.
1. Broom
2. Dust mop
3. ENJO Dust Floor Fibre
4. Vacuum cleaner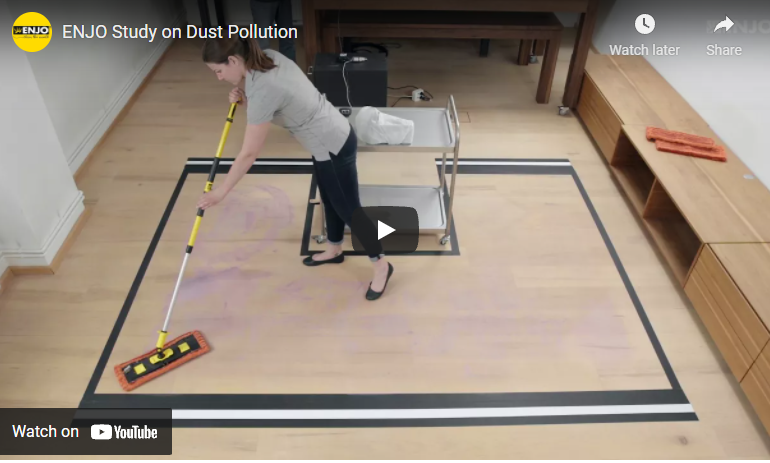 The dust test method
In order to make the test completely fair and accurate, each product's dust cleaning ability was tested on the same cleaning surface with an equal amount of dust. To measure the effectiveness of each product, the amount of dust dispersed into the air during the cleaning process was measured to give an indication of how much dust is actually removed as opposed to redistributed.

The dust test results
The amount of dust dispersed during the cleaning process varied greatly.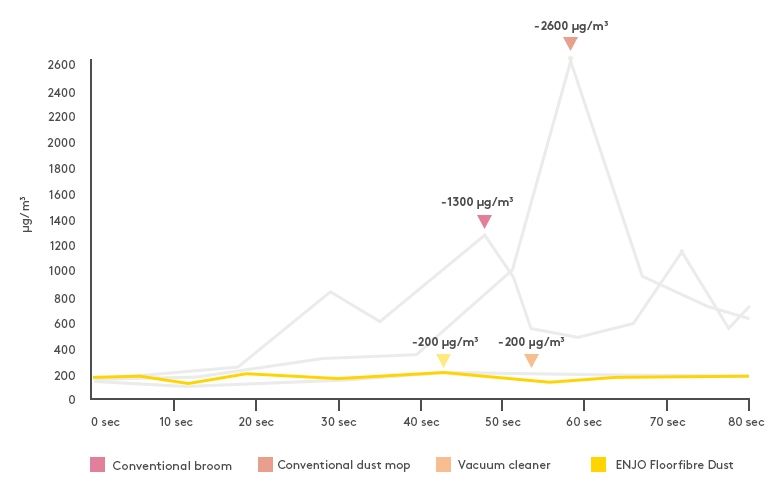 1. Broom | approx. 1300µg/m3
2. Dust mop | approx. 2600µg/m3
3. ENJO Dust Floor Fibre | approx. 200µg/m3
4. Vacuum cleaner | approx. 200µg/m3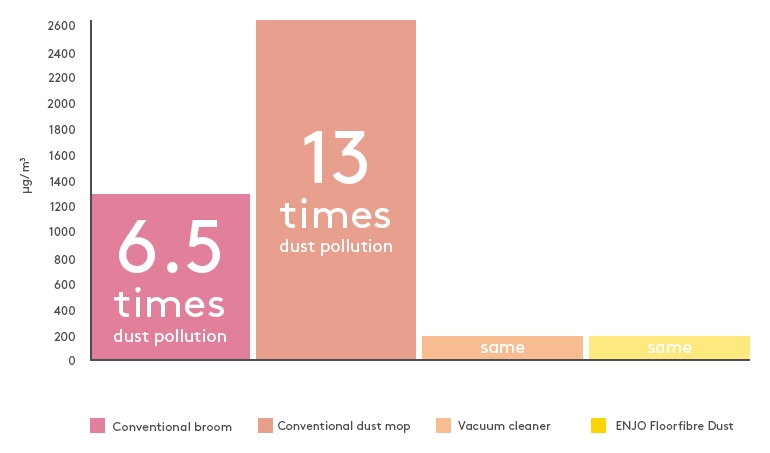 Respirable dust pollution was highest using a conventional dust mop and lowest using ENJO's Dust Floor Fibre and vacuum cleaner.

The dust test conclusion
The ENJO Dust Floor Fibre created 13-times less dust pollution compared to the conventional dust mop, indicating the fibres superior ability to trap dust instead of dispersing dust.

How ENJO dust fibres work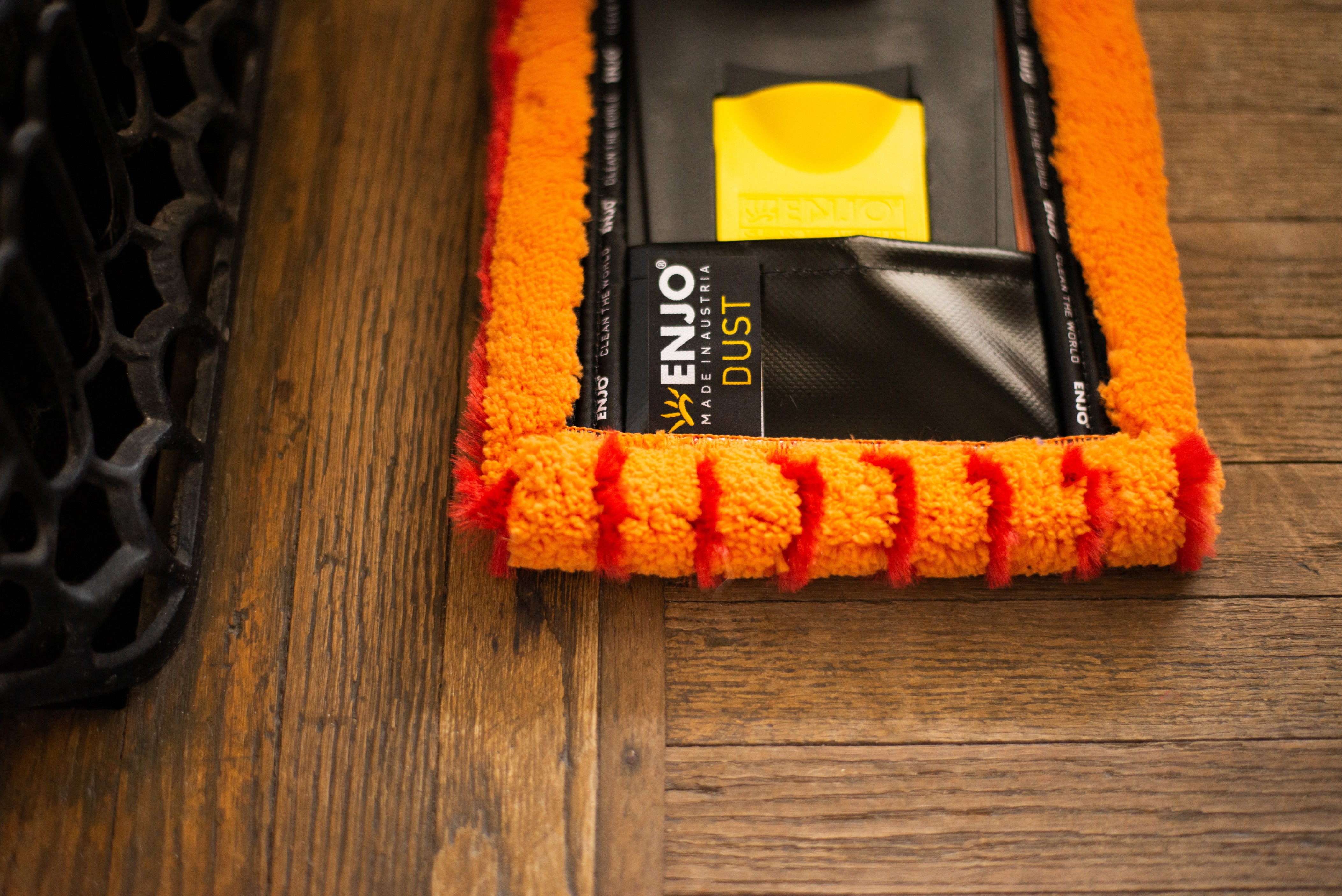 ENJO Fibres aren't like any other fibre cleaning products on the market, the technology woven into every fibre is patented, meaning they offer a one-of-a-kind clean.

The fibres are microscopic, 100-times finer than a human hair. When the fibres pass across a surface they create a static charge that attracts dust like a magnet. The unique weave then traps and holds on to the dust preventing dust and hair from moving around the room during the cleaning process.

The fibres also have a polishing effect leaving a smooth shine after you dust. Not needing a single chemical makes this the healthiest way to keep your home dust-free.


How to dust with ENJO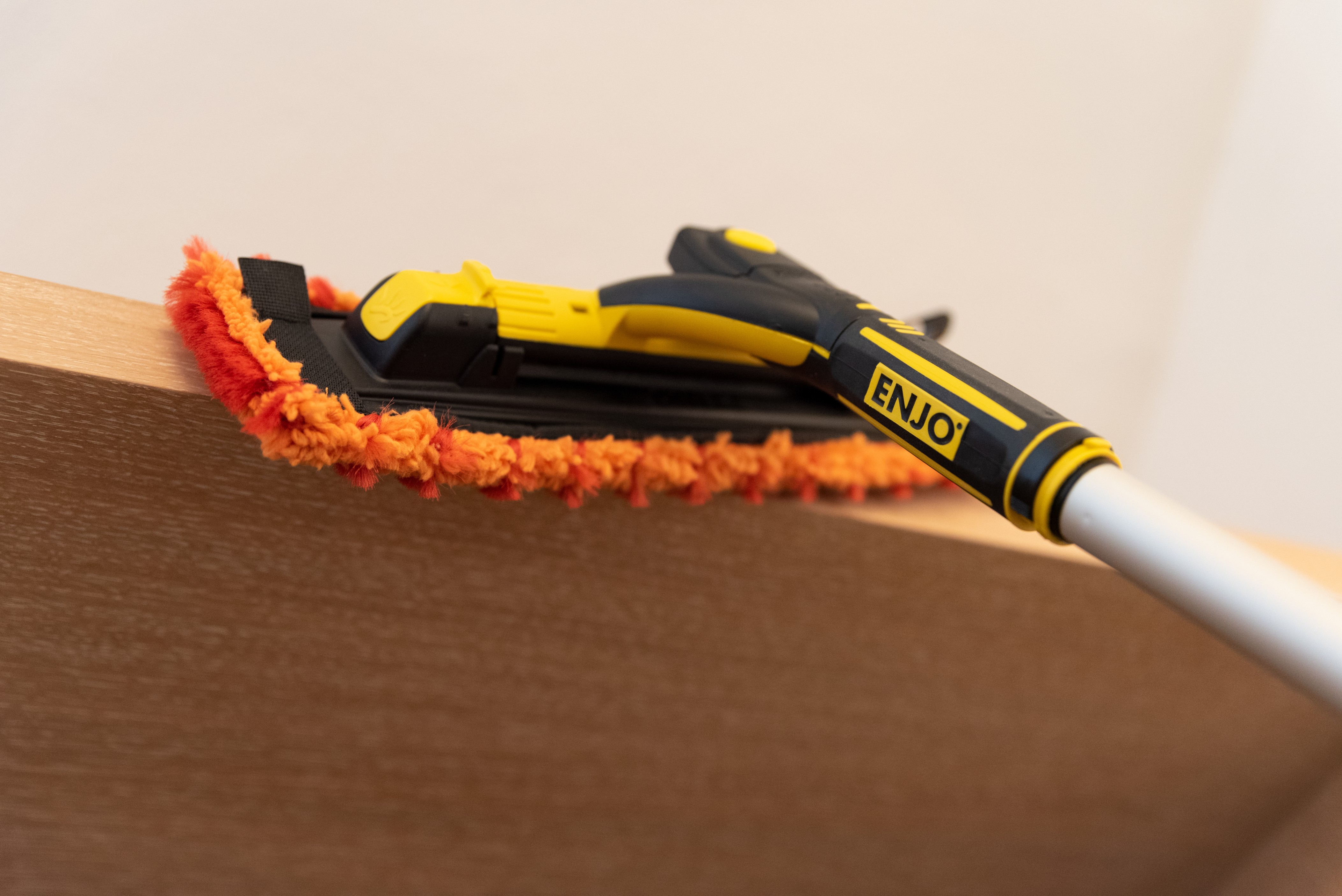 The effectiveness and simplicity of ENJO's range of Dust Fibres makes dusting your home easy. Our range, which includes the Dust Glove, Dust Flexi and Dust Floor Fibre. They'll now be joined by our new Dust Multi Tool Fibre! So you'll have everything you need to keep the air in your home clean and dust-free from top to bottom.

Why we love the NEW Dust Fibre for your Multi Tool:


Dust large surfaces quickly

Improves indoor air quality

A must-have for allergy sufferers and asthmatics

Use dry

Traps dust instead of disperses

Use our Multi Tool in yet another room of the home
Follow these 4 key steps to kick dust into touch:

Step 1
Don't make the cleaning mistake of starting from the ground up, the most effective way to remove dust means starting from the top.
The ENJO Multi Tool and Dust Fibre are perfect for cleaning light fittings, ceiling fans and picture rails. Especially when attached to the Telescopic Pole for extra height. Simply attach the fibre to the pole and swipe over surfaces for ENJO's dust-catching fibres to attract and trap dust. For extra tricky spots, our Dust Flexi will be the right tool for the job and is also compatible with the Telescopic Pole.

Step 2
Use the Dust Glove to lift dust from furniture, plants, TVs – anything in your home that's gathering dust. Simply pop on the glove and wipe your surfaces. For larger surfaces, go with the Multi Tool and Dust Fibre.

Step 3
After dusting furniture, wait 20 minutes before dusting your floors. This will allow any dust that hasn't been trapped in the fibre to settle on the floor ready to be picked up by the Dust Floor Fibre.
The Dust Floor Fibre is part of our popular ENJO floor cleaning system. Combine the Dust Floor Fibre with whatever the most ideally suited Floor Fibre is for your home and you'll enjoy clean floors much faster than a conventional mop and bucket.
Simply attach the Floor Fibre to your Floorcleaner and sweep your floors.

Step 4
After you've picked up the dust from your floors, take your dust fibres and give them a good shake outside. If going outside isn't an option for any reason, you can also hoover the dust off your fibres as an alternative option.



Another great thing about cleaning dust with ENJO...
ENJO's dust-cleaning range is entirely reusable and super long-lasting - meaning dust-free living for years with minimal waste.
Start Shopping Now for your dust-solution delivered to your door, or book an ENJO Demo to see ENJO's dust range in action in your own home.