Preventing Limescale Buildup In Your Bathroom

Preventing Limescale Buildup In Your Bathroom

There's nothing better than a clean, shining bathroom: when the bathroom is clean, all seems right with the world! But getting to that stage isn't without it's challenges. Unless you're cleaning your bathroom regularly, quite quickly there can be a buildup of limescale, mineral deposits and water spots that can often be tricky to remove!

Why do we get water deposits and spots?

If you have spots, a build-up of mineral deposits or "scale", it's likely you have hard water. Hard water contains minerals such as calcium, lime and magnesium, which create a haze or spot when it dries on a surface. Soft water contains fewer (or is free of) minerals. This can happen naturally, such as rainwater, or can be demineralised through being distillation or reverse-osmosis filtration. Soft water helps detergents lather better and rinse cleaner, so you may find your laundry is brighter and dishes come out of the washer cleaner if you have soft water.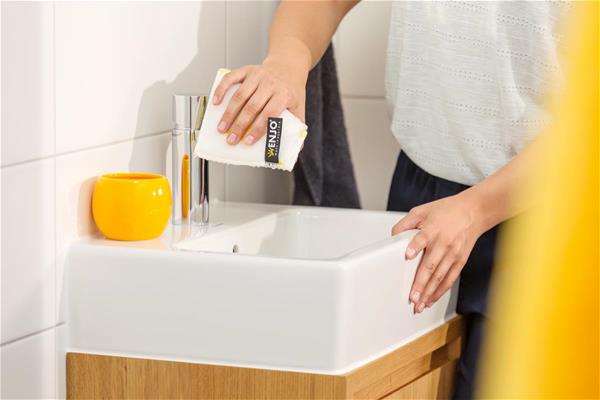 Four tips for keeping your bathroom free from limescale buildup using ENJO
1.
Run the extractor fan when bathing, or open the window: reducing the moisture helps to prevent mildew, and can preserve your décor

2.
Keep your Window Combiwiper with rubber blade nearby, so that tiles and the shower screen can be quickly squeegeed after use.

3.
Keep hooks or railings available for towels and ENJO Fibres; this allows them to dry efficiently and prevents mildew growth.

4.
Keep a spare Bathroom Duocloth and ENJOfil handy for a mid-week wipe of fixtures; a quick 5 minute clean can leave your bathroom looking fab!
How to remove limescale and calcium deposits from your bathroom fixtures and fittings
ENJO's fibres are cut specifically for the dirt and grime they're designed to clean. In the bathroom, the fibres are cut to help break up calcium deposits and remove soap scum.

When it comes to surfaces with stubborn heavy calcium, lime scale, or hard water deposits, we tend to place our trust in well-tried household remedies like citric acid and plant based lactic acid. ENJO's Calcium Dissolver is specially formulated to complement the ENJO fibres in the bathroom, toilet and utility areas. Apply a few drops of Calcium Dissolver with the damp to wet ENJO fibre to the surface to be treated and leave to act for a few minutes. Wipe off with the wet ENJO fibre and dry with an ENJOfil. In the case of strong calcium deposits, put a few drops of Calcium Dissolver directly on the surface and allow to work for an hour. Then wipe clean with the respective ENJO fibre.

Take a look at our full range of Bathroom Products that can help you keep on top of every area of your bathroom.